January 25, 2008 ⋅
34 Comments »
It seems to be accepted wisdom, especially in programming circles, that more screen real estate makes you more productive. I've heard claims that you can increase your productivity by up to 50% just by adding a second display. After four months of using a big-ass LCD for development, I recently switched back to a 14" laptop screen. And you know what? I don't feel like I've missed a stride. So I decided to take at the facts behind the claim that more screen real estate makes you more productive.
The Claims
Jeff Atwood writes an excellent blog on programming and human factors, and he is an unabashed fan of multiple monitors. In his post Multiple Monitors and Productivity, he writes that using multiple monitors "is really a no-brainer for any developer who values his or her time." He stresses the fact that it's not purely about screen real estate — he recommends using two or three smaller displays rather than one huge one. The reason is that with bigger displays, the window management actually gets more complicated. This is what Jeff calls The Large Display Paradox.
Joel Spolsky is another well-known champion of a multiple-monitor setup for programmers. In The Joel Test: 12 Steps to Better Code, he advocates giving your programmers the best tools money can buy. And according to Joel, this means multiple monitors:
Debugging GUI code with a single monitor system is painful if not impossible. If you're writing GUI code, two monitors will make things much easier.
It's not just Jeff and Joel. Take a look at the discussion thread on the Slashdot article Multiple Monitors and Productivity, or Ask Metafilter: Where can I find case studies on productivity gains from dual monitors for developers?. Even the New York Times published an article on The Virtues of a Second Screen:
Survey after survey shows that whether you measure your productivity in facts researched, alien spaceships vaporized, or articles written, adding an extra monitor will give your output a considerable boost — 20 percent to 30 percent, according to a survey by Jon Peddie Research.
My Doubts
I definitely agree that for some tasks, it's really helpful to have some extra screen real estate. If you're a graphic designer, you probably don't want to be peering at your poster layout through a 13" keyhole. But for programmers, how many tasks actually benefit from more screen space? If I need to look at API documentation while I'm coding, I have no problem switching to another window to start writing my code. And on my 14" widescreen laptop screen, there's more than enough room to compare two pieces of code side-by-side: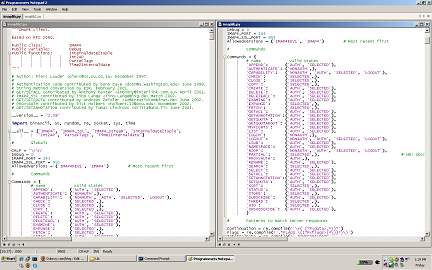 In the end, I think it's a case of micro-optimization. There are lots of small tasks that can be made slightly more efficient if you have a second monitor. But these tasks are not the real bottlenecks to programmer productivity. If you were a writer, would you expect to increase your productivity if you could avoid changing sheets of paper in your typewriter?
The Evidence
So what about the actual hard evidence? Let's take a look at the studies that supposedly show this increase in productivity.
An article on the Microsoft Research site entitled Two Screens Are Better Than One claims that researchers "found a tool that can increase your productivity by 9 to 50 percent and make your work day easier." Since the article didn't actually cite the studies, I had to do a little digging. I found a paper called Toward Characterizing the Productivity Benefits of Very Large Displays which found a 9% improvement in a series of tasks that involved cutting-and-pasting and scanning a document for information.
Not bad, actually. A 9% improvement in tasks that are highly applicable to programming. But on the other hand, how much time do you actually spend in a typical day doing these kinds of tasks? And how much time do you spend typing, whiteboarding, talking to your co-workers, and just staring into the distance and thinking about a problem? Let's be generous and assume that you spend a quarter of your day performing tasks like in the study. So by using a bigger display, you might be able to improve your productivity by about 2.5%. Remember, studies have shown more that a rock-star coder can be an order of magnitude more productive than your average joe 1. Do you think these guys are more productive because they can cut and paste faster?
Okay, so we know where they got the 9%. What about the 50%? "Further studies showed even greater increases - at times up to 50 percent for tasks such as cutting and pasting." Aha, there it is again. Cutting and pasting. Well, if your job includes 7.5 hours a day of cutting and pasting, then maybe you can cut that down to 5. You might make it a bit longer before you stab yourself in the eye due to the mind-numbing boredom.
Another study I've seen cited a few times is the The 30 inch Apple Cinema HD display productivity benchmark by Pfeiffer Consulting. This study showed that a 30" display made users significantly more productive than a 17" display. But the tasks were mostly designer centric, except for a task that involved manipulating a large spreadsheet, and one of combining several Word documents into another document (cutting and pasting again!).
Conclusion
After looking at the studies, I think it's fair to say that some tasks can be made significantly faster if you have more screen real estate. On the other hand, I think it's clear that most programmers are not going to be 50% more productive over the course of a day just by getting a second monitor. The tasks that can be improved are not the bottleneck to programmer productivity.
On the other hand, if you just can't live without your dual- or triple-monitor setup, fine! I definitely agree that it can be nice sometimes. I personally find it difficult to manage the extra screen real estate, but that's just me. If you're a developer and you want a dual-monitor setup, then that should be reason enough for your boss to buy one. As Joel says:
Top notch development teams don't torture their programmers. Even minor frustrations caused by using underpowered tools add up, making programmers grumpy and unhappy. And a grumpy programmer is an unproductive programmer.
Just don't think that by adding a second monitor, you'll start coding circles around the guy on his ThinkPad.
---
[1]: The fabled "10 fold difference" in programmer productivity is a discussion for another day. If you want to dive in, you could start with Jeff Atwood's post on Skill Disparities in Programming.