April 13, 2009 ⋅
21 Comments »
For the past few months, I've been knee-deep in data from the tabbed browsing study that I conducted late last year. Now that I'm finishing up my thesis, I figured it's about time that I share some of my findings. In this post, I'll talk about one of the quantitative questions I was trying to answer in my study: how many tabs do people use?
Measures
The first thing we need to do is to be a bit more precise with the question. What does it mean to "use" multiple tabs or windows, and how should it be measured? There are few possible answers.
We could simply count the number of tabs that a person creates. One problem with that is that when Firefox starts up, at least one tab is created (and possibly more, if it is restoring a session), so someone who opens and closes their browser frequently would have a high number of tab creation events. To eliminate this effect, we only count tabs that are created after browser startup. We also ignore the first tab that is created in any window.
Another thing that's interesting to measure is the number of concurrent tabs or windows that a person typically has open. For example, two people might create a similar number of tabs, but one of them might have an email client, an RSS reader, and another tab playing music open at all times. It seems reasonable to say that this person uses tabs more heavily than the other person. We decided to measure the number of windows and tabs that were open whenever a navigation event occurred. For consistency, we ignored all navigation events caused by Firefox's session restore feature when calculating this measure, although it didn't have a very significant effect overall.
A third measure of tab usage that might be interesting to look at is the number of tab switches that a person performs, but I'll address that in a later post. For now, we'll concentrate on how many tabs.
Study Details
First, I guess I should mention a little bit about how the study was conducted. Here was the recruitment email we sent out to family, friends, and colleagues:
We are seeking participants (at least 18 years old) for a research study exploring how people use web browsers.

If you use Mozilla Firefox for several hours a day, and often use multiple tabs or windows, then you are a candidate for the study. If you choose to participate, you'll install a Firefox extension that will log various actions, e.g. clicking on a link, visiting a bookmark, opening a new tab, and clicking the back button. Don't worry, the names and addresses of the web sites that you visit will NOT be revealed to researchers.

The study will last for two weeks. During this time, you'll take part in five short interviews (approx. 30 minutes each) that will be arranged at your convenience. In addition, you'll be asked to record some brief notes several times during the course of each day (again, at your convenience) and to email your log file to the researchers at the end of the day. Participating in the study will take about 4-5 hours in total over the two week period.
We also put posters up with similar wording across the University of Toronto campus. 21 people completed the study, and 1 person started it but dropped out early.
Unlike many other studies like this that have been done, our study participants had a variety of ages, professions, and technical skill levels. One participant was younger than 20, 14 were between the ages of 20 and 29, four were 30-39, and two were 50-59. Only 6 participants came from a computer science or engineering background, while others had studied education, environmental science, business, and psychology. Six of the participants were full-time students (either undergraduate or graduate), and 15 were working in some kind of office environment where they spent most of their time on the computer.
Results
Tab Creation
First lets take a look at the tab creation rate. Now, keep in mind that these are only tabs that are created after browser startup, and the first tab in any window is not counted. On the X axis is the "tab creation rate": the ratio of tabs created to navigation actions. (A navigation action is anything that changes the URL of the page, even if it doesn't result in a top-level page load.) The height of the bars represents the number of participants with a given tab creation ratio.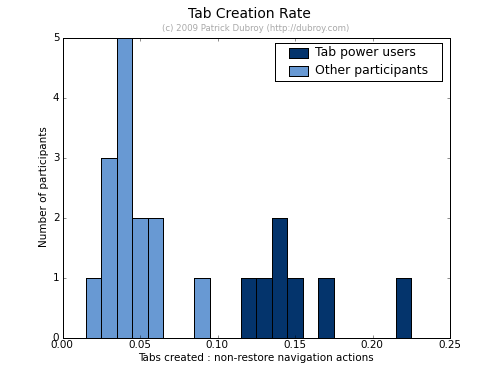 Interesting…we've got a very clear bi-modal distribution. More than half of our participants (13/21) are clustered around the 0.04 mark. In other words, these people create about 4 tabs for every 100 navigation actions. The rest of the participants are loosely centered around 0.14, meaning that they create about 3 times as many tabs as the other people. In fact, we have two participants who are even higher, creating (respectively) 17 and 22 tabs per 100 navigation actions.
Unsurprisingly, the four highest tab creation rates belong to the four participants with Computer Science and/or programming backgrounds. The other four participants in the high part of the distribution are not your typical "techie" types: one is trained as a civil engineer, and the others have backgrounds in communications, humanities, and marketing.
Concurrent Tabs
Another interesting thing to look at is the number of tabs that people tend to have open at any given time. Again, we used navigation actions as our increment of measurement. On the X axis is the number of tabs open when a navigation action occurs, and the height of the bars it the total number of navigation actions that occurred with the that number of tabs open.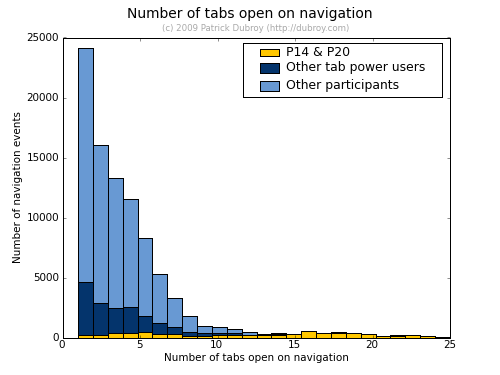 Not too surprising — the most common number of tabs to have open is one, with a pretty steady descent down to 9. It flattens out and hits a valley at 13, but then rises slightly again for a second peak at 16. So, again we see a slight bi-modality to the distribution. But if we take the same set of "tab power users" from the first graph, we see that they have roughly the same profile as all the participants put together. In fact, the peak at 16 is almost entirely caused by only two of the power users: participants 14 and 20.
One possible explanation for the bi-modal distribution here is tab bar scrolling. At a typical screen size on a laptop or desktop, the tab bar can fit about 9-13 tabs without scrolling. Many people probably try to avoid having the tab bar scroll, but once you get to the point where it starts scrolling, there's little additional cost to having more tabs open. So it may be the P14 and P20 are the only ones comfortable with keeping so many tabs open that the tab bar is scrolling.
Take a look at the median and max number of tabs that each participant had open: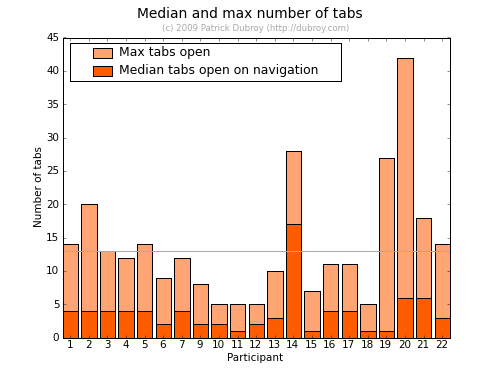 (Note that there's no participant 8…he's the one that dropped out.)
Participants 14 and 20 definitely stick out — it's easy to see why they contributed so much to the yellow portions of the previous chart. Participant 14 by far the highest median number of tabs open with 17, while no other participant had a median higher than 6. Participant 20 actually edges out P14 for max tabs though, with 42. (For once it really is the answer.) Forty-two — that's a lot of tabs! The tab bar would be scrolling two are three times over at this point. He actually commented on this, saying "Now I am opening tabs up from Digg and they are appearing at the end of my massive list. This is truly a bad way to browse."
P19 is an interesting one…a median of only one tab open, but a max of 27! Participant 2 is similar, but not nearly as extreme: a median of 4 and a max of 20. Even if these two preferred not to have too many tabs open most of the time, they weren't afraid of opening up lots of tabs when they needed to.
In general though, it looks like most people don't go far beyond where the tab bar starts to scroll. I've marked a gray line on the graph at 13 tabs. At a resolution of 1280x1024, this is the point at which the tab bar starts scrolling (on my computer, at least). We see one person who maxes out at 13, and a few more who max out at 14. In all, there are 9 people whose maximum is between 10 and 14.
Conclusions
There are a few things we can take away from this. First, we saw that people who use tabs heavily can create 2 to 3 times as many tabs as other users. It's not obvious what the cause for the bi-modality in the distribution is though. From the second and third graphs, we see that having 10 or 11 tabs open is not that uncommon, even for people who aren't "power users". And the third chart also show us that even people who don't have many tabs open on average can sometimes have spikes of a large number of tabs.
---
Let me know if you have any questions or feedback. Have I explained things clearly? Are there any other numbers you think I should take a look at? Leave me a comment or send me an email. I'll be posting some other interesting results from my study over the next couple of weeks.