January 10, 2007 ⋅
2 Comments »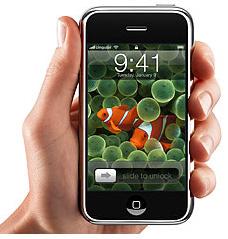 I've had enough time now to wipe the drool off my keyboard and formulate some intelligent thoughts on the iPhone.
The iPhone is remarkable in a few different ways. Obviously the physical interface is big departure from the traditional cell phone interface. I'm not sure exactly how I feel about the touch screen, but if anyone can make it work, Apple can.
To me though, the more interesting aspect is that it looks to be a make-or-break test for the theory of convergence. Yes, we've had camera phones and mobile web browsers for years, but they tend to be more gimmicky than useful. I think this is going to be the acid test: can we create a good multi-purpose mobile interface? And more importantly, will people buy a swiss army computing device?
The argument over convergence is an old one. Way back in 1986, Donald Norman argued against general-purpose user interfaces. In Less Is More, Bill Buxton argues that "divergence … should be the dominant model". Most other usability experts seem to agree that from a usability standpoint, special-purpose devices are the way to go.
But mobile devices are a whole different ball game. Unless you're willing to go the fashion-questionable route of belt clips and cargo pants, there are only so many devices a man can carry. Donald Norman suggests that we should carry multiple devices (presumably stashed in a murse, aka a European handbag) which communicate via bluetooth, and with a universal controller, "a Bluetooth device with simple buttons and a screen that connected to and controlled all the separate devices".
In the end, it doesn't matter what the experts think — the consumers are going to answer the convergence question. And I think the iPhone is going to be the precedent setter. Leisa Reichelt thinks it's an automatic deal-clincher. I'm only a bit more skeptical. Touch screens have some well-established usability problems, notably the lack of tactile feedback. Even with the iPod, Apple backpedaled a bit with the four buttons, which were only touch-sensitive on the 3G models.
But I'm still betting on the iPhone being a winner. Get your popcorn — this is gonna be interesting.