October 4, 2007 ⋅
8 Comments »
If you've ever attended a conference or lecture, you've probably seen the presenter struggle with the projector. "Anybody have a VGA cable?" "Did you press Fn-F7?" "What resolution is your screen set to?" Somehow it seems especially funny when the audience is HCI researchers. We all chuckle and shake our heads, but no one ever does anything about it.
It's a good sign you've got a real, serious usability problem on your hands when even the experts struggle with it.

Another mundane usability problem happens with USB flash drives. Yesterday I bought myself a 2GB Kingston MiniFun. Although it sounds like something you might find in your girlfriend's underwear drawer, it's actually a really cool little USB drive. It's so tiny. I also love the Lego-inspired cap.
These little drives are great, but it really kills me that you have to go through the "Safely Remove Hardware" dance on Windows: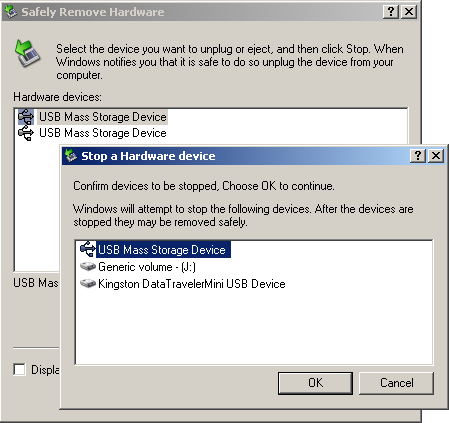 This really makes no sense to me. I've got exactly one USB storage device plugged into my system — why do I have to go through this complicated two-step dialog? Apple got it right on this one, where at least you only have to click a single button to unmount the drive. But still, forcing the user to unmount the drive before removing it — or risk corrupting their data — is just asking for trouble. And probably everyone who's ever used a USB drive has run into this problem before.
I believe Macs used to have a soft-eject button for floppy disks that would ensure the data was finished being written before ejecting it. This is the right approach — make it impossible to do things wrong. Although it's not clear to me how you might implement that for USB drives.
Unfortunately, no one seems to be interested in fixing these kinds of mundane usability problems. The issues become so ubiquitous that we just accept that it's just the way things are. Maybe we need some kind of bounty to fix these problems, something like the Millennium Prize for math or the X Prizes. Anyone want to pony up a few million for this?