February 7, 2007 ⋅
5 Comments »
For a long time now, I've been frustrated by how hard it is to organize and manage all the little bits of digital data in my life. I have files stored on several different computers; bookmarks in Firefox and Del.icio.us; photos on my website, on Flickr, in iPhoto, and in Picasa. Finding the information is just one of the problems. What if my hard drive dies (knock wood)? And will I be able to deal with this stuff in 10 or 15 years?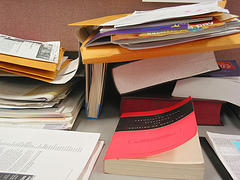 For these practical (and selfish) reasons, I'm really interested in the area of information management. In fact, it's the area I'd like to focus on when I do my master's in HCI this fall. As I learned more about the field of HCI, I found it a little surprising that very few people seemed to be working on this problem. I mean, it seems almost too obvious that people are finding it harder and harder to cope with the vast amounts of information in their lives. But lately, I've started seeing lots of interesting activity in this area.
The problem is fundamentally interdisciplinary, so it's good to see that there is interesting research being done in many different fields, like computer science, psychology, cognitive science, and information studies. Within the "traditional" domains of computer science, there is work being done in the areas of databases and artificial intelligence. The SEMEX project, from the University of Washington's Database Research Group, is looking at system for efficiently storing, managing, and retrieving personal information. Another interesting project out of UW, from the Information School, is Keeping Found Things Found.
Both cognitive science and artificial intelligence are concerned with knowledge representation, with cog sci focusing on how people store and retrieve information, and AI focusing on how to store information to create machines that think. This knowledge representation angle is the way that I've been coming at the problem. How can we structure the information in a way that reflects and supports the way people think? MIT's Haystack Project is doing some cool stuff in this area: "investigating approaches designed to let people manage their information in ways that make the most sense to them."
Along the same lines, I saw a really cool book that is coming out soon about information foraging theory. According to Jakob Neilsen:
Information foraging is the most important concept to emerge from Human-Computer Interaction research since 1993. Developed at the Palo Alto Research Center (previously Xerox PARC) by Stuart Card, Peter Pirolli, and colleagues, information foraging uses the analogy of wild animals gathering food to analyze how humans collect information online.
It seems like most of the research that is being done into how people interact with information is focused on the web. That's the main focus of the field of information architecture. Peter Morville is one of the gurus there; he literally wrote the book on information architecture. But I really think that a lot of the idea about web-based information can also be applied to personal information.
Anyhow, it looks like things are shaping up to get better — more and more people are researching the problems of personal information management. And more than likely, I will soon be one of those people.
(Photo by theCallowQueen on Flickr)