August 16, 2007 ⋅
35 Comments »
Yesterday I finally got around to buying a monitor, so I was able to boot my Mac Mini for the first time in 6 months. I decided to install the latest version of Skype, since the version I had on there was so out of date. In the process, I was reminded just how much of a pain it is to install applications on Mac OS.
If you're not familiar with the Mac installation process, check out the instructions that are displayed on the Skype download page:
Close Skype for Mac, if you have an earlier version running
Download the latest version of Skype for Mac
Open the Skype download.
Open your web browser's Downloads window and double-click on the blue Skype icon. If a warning dialog opens, simply click Continue.
Drag the Skype icon to your Applications folder
If you have an older version of Skype installed, you'll be asked whether you'd like to replace it with the new one. Click Replace.
Eject
After the installation has finished, click the Eject icon.
Open Skype from your Applications folder
Compare this to the instructions for installing Skype on Windows:
Save the application
Follow the Setup Wizard
Launch Skype
This is a completely standard installation for OSX. On the Mac, applications are download as .dmg files, which are disk images that can be mounted in the same way as a CD or external hard drive. Typically, when the .dmg is mounted, you see a window like this: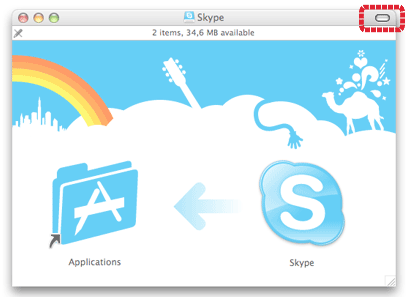 It looks like the cover of a Jefferson Airplane album, but piece of artwork is actually telling you to drag the Skype icon into your Applications folder. So I did what I usually do: click on the Finder icon so I could bring up my Applications folder. Except when you click on the Finder icon, nothing happens, because the window you see is actually a Finder window. At this point, I had to think for a second or two before remembering to hit Cmd-N to open a new Finder window, where I could now drag the Skype application icon.
I did actually learn something from Skype's installation instructions though. Until last night, I never realized that the picture of the Applications folder is actually a link to that folder, so I can just drag the icon an inch to the left to install it. Which raises the question: if it's that simple, couldn't they just do it automatically? A simple prompt of "Would you like to install Skype in your Applications folder?" would probably work 99 times out of 100. I also learned that the little gumdrop in the top right of the window switches back to the "traditional" Finder view. That's news to me.
Anyhow, once you've made it this far, you're not out of the woods yet. The Skype .dmg is still mounted, as we can see in the Finder window: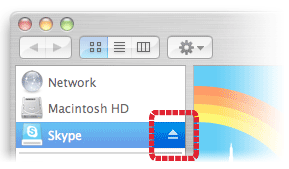 So you need to click on the eject button to unmount the installation image. If I didn't understand the inner workings of the process, I think I would be really confused by this part. Why would "Skype" show up as if it's an CD or external hard drive? Why do I have to "eject" it after I'm done?? The whole .dmg business gets worse, because it's actually possible to launch the application from the .dmg, which can lead to lots of confusion when you eventually attempt to unmount it.
A better solution
Many of the problems in the Mac installation process are caused by an earnest attempt at simplicity. On the Mac, an application is like a file — you can save it anywhere you want, and deleting it is as simple as dragging it to the trash. But the problem is, they aren't really files, they're folders. So in order to distribute them as a single file, they have to be wrapped in a .dmg or some sort of archive. And this is where the problems begin.
My proposed solution is for Apple to come up with a standard application distribution format, something other than .dmg, because that causes too much confusion, with the whole unmount process. Really, it doesn't need to be anything more than a zip file with a bit of metadata. When you double-click on one of these files, you would be presented with a dialog asking, "Would you like to install Skype?". It would show "Destination: Applications", which advanced users could change, like a "Save As" dialog. Then, for most people, installing the application would be as easy as clicking yes in the dialog.
Any thoughts? I think this keeps the main advantage of the Mac approach — that an application is an object and not some sort of abstract commitment. It makes it dead easy to do what people usually do, which is install the application to their Applications folder. At the same time, it still allows advanced users to customize their installation location. Really, does it need to be any more complicated than that?